YKK Products
Buttons
Burrs & Rivets
SA Snapet
SW Snaps
SX Snaps
SK Snaps
SP Snaps
SG Snaps
Attaching Machines
Home
Contact Us
FAQ
Hook & Eye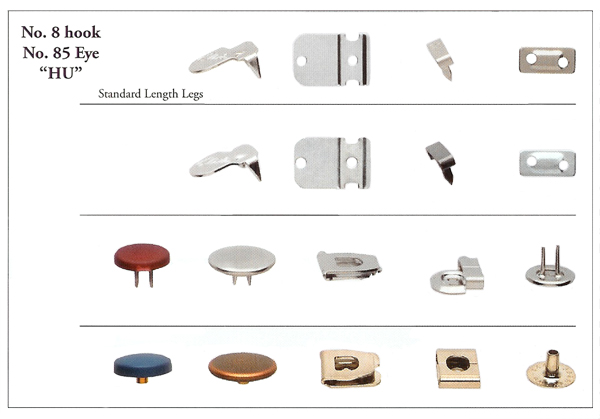 The YKK Advantage

YKK Snap Fasteners America's Elite hooks and eyes are manufactured in two basic types of metal: brass or steel. Brass base components are finished in various metallic finishes. Steel components are usually nickel or zinc plated for maximum protection. Both the #8 hook and #85 eye are available with standard or long legs. Either variation is designed with a low profile and crush resistant geometry.

When attached directly onto the fabric or attached with optional stay tape, Elite hooks and eyes can be reliably applied to a wide range of fabric and garment designs.

Attachments are best made using YKK Snap Fasteners America's fully automatic attaching machines, with or without optional stay tape feeding unit.

As an alternative to snaps or tack buttons, YKK Snap Fasteners America offers the #10 and #20 Hook and Eye system. Each offers the outside aesthetics of a snap or button with the lateral security of a Hook and Eye. YKK Snap Fasteners America's #10 system uses legendary two prong fastener technology to secure the attachment and the #20 utilized the proven post system. Both offer unique advantages for a variety of attachments on various fabrics and application designs.


Snapco is the sole distributor of standard No. 8 Hook & No 85 Eye made in the U.S. (Berry Amendment compliant).