YKK Products
Hook & Eye
Buttons
Burrs & Rivets
SA Snapet
SW Snaps
SX Snaps
SK Snaps
SP Snaps
SG Snaps
Attaching Machines
Home
Contact Us
FAQ
SG Snaps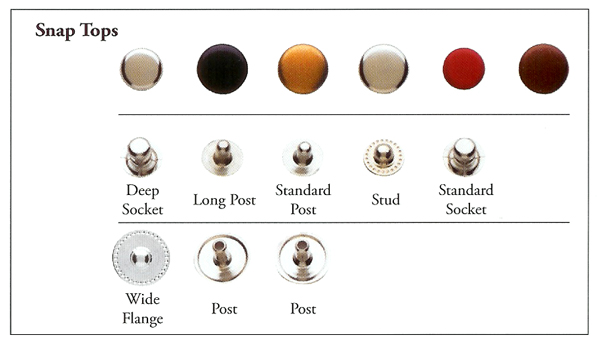 The YKK Advantage

"SG snap fasteners are available in an assortment of component options to suit your exact application requirements. Tops are available in both 14 and 16 ligne diameters, sockets and posts are available in standard and long variations with narrow and wide flange studs for that extra attachment support. Snap action can vary based on the substrate application and compression of the socket during attachment to the substrate material, giving that "just right" hold and action.

Made of steel, "SG" snap fasteners are strong and durable. Tops can be enamel painted for color matching or plated and oxidized for that special look.

"SG" snap fasteners require a hole to be pre-punched in the material before the components can be attached. "SG" fasteners are not recommended for cloth fabric apparel applications.

Attachments can be made using a basic foot pres, pneumatic foot press, electric flywheel press or a fully automatic WB-17 attaching machine.